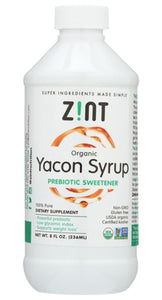 Zint Yacon Syrup Bottle
Who says eating healthy can't be delightful? The syrup of the yacon root offers a low glycemic index, low calories, and amazing nutrients. Its secret lies in a hard-to pronounce ingredient called fructooligosaccharide (FOS). As a powerful prebiotic, FOS reaches the colon unmetabolized and nourishes the good bacteria in your system.
Suggested use
Sweet and delicious, our pure yacon syrup makes for a perfect substitute for honey or maple syrup. Drizzle it over yogurt, add it to you morning coffee, give your smoothies a sweet kick, or sweeten your favorite recipes.